Since 1973, I have been a handweaver here in the heart of Silicon Valley, California.
I began working in polymer clay in 1989. I hold an M.A. degree in Art Education from Stanford University. I also worked for many years teaching elementary school children and teachers how to use computers and educational software.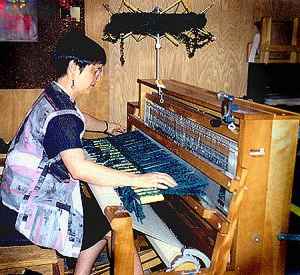 Color is my passion!
I love to play with color combinations and gradations.
You can see this in my handweaving and my polymer work. Color is the first element I notice when viewing something new. My colorful scarves, jewelry, and buttons make wonderful gifts!
Click on Products and see!
I create my original earrings, pins, barrettes, bracelets, and necklaces from FIMO polymer clay, using caning techniques. I blend my own color palette, create simple and complex geometric canes and color gradation canes, and combine these canes to create unique and original jewelry. (Canes are stacks or rolls of different color clays. Designs are created in the cross section of the stack or roll. It's a bit like making sushi, candy, or roll cookies!) I then stretch the canes by hand to reduce them in size, slice, and bake to create the finished piece. I create all of these pieces myself in my small home studio, on a table sandwiched between two floor looms. Two of my pins and a pair of my earrings appear in the color chapter (pg.51) of a book on art principles as applied to polymer clay (Foundations in Polymer Clay Design by Barbara Maguire, Krause Press, 1999.)